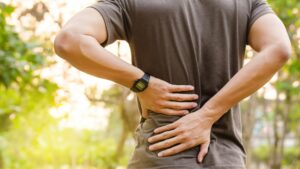 Having a strong, healthy back is important if you play sports, work out, sit at a desk all day, care for small children, or are recovering from an injury. This is the fourth in our series of lower back exercise programs to take you from first having a back injury, disc injury, sciatica, or sprain/strain to becoming stronger and pain-free through progressively harder core exercise routines. 
Before beginning this program, you should have first mastered all of the intermediate core exercises in our previous routine and be close to having your back pain-free and stronger than it was when you first injured yourself.
Remember to go slow during this routine and gradually work up to 3 sets of 20-25 repetitions.  Once you can do three sets and 25 reps and you feel like the resistance is easy, you can increase the resistance and go through the progression again to make it more challenging. 
DOWNLOAD THE FREE EXERCISE PDF HERE
For this routine, you will need to use a cable weight system or resistance band attached to a wall and a balance pad to kneel on. 
CLICK HERE TO WATCH THESE EXERCISES DEMONSTRATED ON YOUTUBE
Standing Diagonal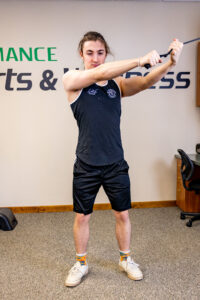 This exercise will challenge you to maintain your posture while pulling the band or cable across your body and down.  Go slow as you pull down, and then return to the starting position.  
Standing with the band over your shoulder with straight arms, pull the band down towards your feet. 
Chest Press Lunge Stance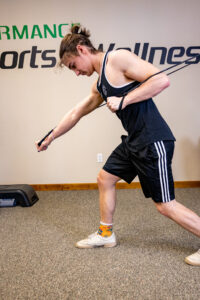 Starting in a lunge stance and the cable/bands behind you squeeze your legs and butt, making your base strong as you push the hands forward while alternating sides.  Try to keep your base engaged as you move throughout this exercise.
Standing in a lunge stance with the band behind you and shoulder height alternate pushing one arm forward as you twist, keeping the lower body from moving. 
Incline Row Lunge Stance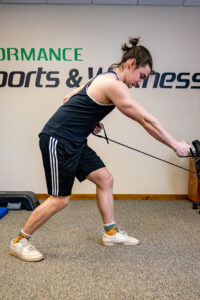 This exercise uses the same setup as the chest press, except we are now alternately pulling up from low to high in a single arm row.  Remember to engage your leg and butt muscles to keep a strong base throughout the movement.
Standing in a lunge with the band low by your feet, alternate pulling 1 arm back as you pull the shoulder back, keeping the lower body from moving. 
Lawn Mower
As the name suggests, this exercise uses the same movement you would have starting a lawn mower or other small engine.  Engage your lower body before you pull up and back with your upper body.
Standing with the band by your feet, pull the band back as you rotate your torso. 
Kneeling Crunch Balance Pad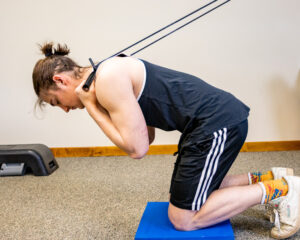 Our final exercise in this routine challenges your abdominals as you do a kneeling crunch.  Keep your legs strong as you flex your upper body into the crunch position while holding the bands.
Kneeling on a balance pad or pillow and the band behind you overhead crunch forward toward the floor. 
I hope you liked this series of exercises designed to help you recover after a lower back injury or increase your core strength safely and gradually. 
To learn more, sign up for our newsletter, where we share useful tips and information like this! 
To download a pdf of this routine, click here.
If you'd like to get out of pain as quickly as possible, you can get an appointment with me by clicking the Request Appointment link on the right-hand side of your screen or calling (845) 255-1200.  I look forward to meeting you.