Leave Us a New Review
Click on any icon to be taken to our profile where you can leave a new review. Choose whichever review site is best for you.
We appreciate you taking the time to help us spread the word. New reviews left on these sites are added to our website once per month.
---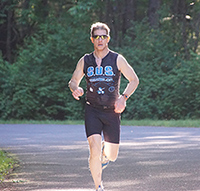 Testimonial from Dr. Mike Halstead
I have known Dr. Ness for years and have always been impressed with his expertise and professionalism. I recently was having a calf/achilles issue that just would not go away, no matter how much resting, stretching and rolling I would do. The ART sessions are intense (painful!😉) but I saw results right away. He gave me a program of exercises and stretches to do at home and I was running, pain free, again after just a couple sessions, just in time to race the SOS!
Dr. Mike Halstead

Testimonial from Ian Richards 
I had been having severe pain from two herniated discs for several months in my lower back , which was unresponsive to physical therapy and epidural steroid injections.  I had visited several orthopedic surgeons and all were recommending surgery ranging from a micro disectomy to a spinal fusion.
Needless to say I was very discouraged, and was looking to exhaust all alternative treatments before I was willing to commit to these invasive procedures.  While looking for these treatments online, I discovered Dr. Ness.  I was impressed by his procedures for working with back issues, and was equally impressed by the testimonials that other patients gave about his work.
I have been working with Dr. Ness since December, and his ART, Spinal Decompression and Cold Laser Therapy have significantly reduced my back pain. These procedures have enabled me to walk, climb and lift objects up stairs without difficulty.  The exercises that Dr. Ness has prescribed has also allowed to regain much of the flexibility that I had lost due to my injury, and I feel that I now will no longer require surgery.
Thank You Dr. Ness for all you have done.
Ian Richards
I haven't felt this great since my early twenties
Hi, my name is Tony Saracino and if you are someone who has been active in sports their entire life, then you know that now as we approach middle age, the challenges to staying active and fighting through the daily aches and pains and loss of mobility in our joints, only become more difficult. If you suffer from this and want an alternative to surgery then Active Release Treatment (A.R.T) performed by Dr David Ness is for you. By breaking up scare tissue through various stretching exercises and deep tissue massage, A.R.T. has given me greater mobility with no pain. I haven't felt this great since my early twenties. Thanks, Dr Ness.
Thrilled to be back out there on the field
David,
Taylor is the starting second baseman for the New Paltz varsity and they're off to a good start at 2-0. Taylor has had no problems with his elbow. He was very tentative with his throws in the beginning which was understandable. But yesterday we ended the game on a slick 6-4-3 double play where Taylor made the pivot and really gunned the ball to first base. He did it without thinking because he HAD to. That was the first time he really had to cut loose this season. I think after a few more games and throws like that he will put the elbow out of his mind completely.
Taylor has religiously followed to the exercise program with the bands as you prescribed. He has increased the tension 4 or 5 times since the start. He ices his elbow every night even though it does not bother him. I have been so impressed with his resolve to get better and obviously he's come a long way since the first time we visited you.
Taylor simply loves baseball and is very competitive, and I know he is thrilled to be back out there on the field after what amounts to a two-year lay-off. You have no idea how much this means to him. I can't thank you enough for all your help and encouragement in putting Taylor back on the road to recovery.
Craig
Testimonial from Emory Mort 2nd place finisher Philadelphia Marathon
Before working with Dr. Ness, I took some functional movement tests on my own to assess my body's susceptibility to injury. Formerly a semi-professional runner, training and even sitting was now chronically painful due to imbalances. On the majority of the simple flexibility, strength and stability tests, I both failed the test and experienced pain. Working together, Dr. Ness and I made a plan, and within a few weeks of doing ART, adjustments, and home study and exercise, I passed every test on the screen, and was running more consistently than I had in 30 months. I still have some work to do to re-align my long-imbalanced body, but my posture, flexibility and gait stability are better than they have been since I was in middle school. Thanks to Dr. Ness and the dedicated staff members in the office.
Emory Mort, Saugerties, 30
Runner-up finisher, 2009 Philadelphia Marathon
Childs sports injuries diagnosed and treated
Upon first glance a couple of years ago, Dr. Ness was sure my son had Osgood Schlatter's – which was subsequently diagnosed by an Orthopedist. I went to the same Orthopedist over a year later for my son's elbow and after several months of recommended PT, my son told me his elbow was not improving. Once again, I brought my son to see Dr. Ness and he diagnosed "Golfer's Elbow" and my son experienced near immediate relief after treatment. I will always ask his opinion first on a sports related issue. In addition, my son has Aspergers Syndrome and appreciates Dr. Ness' humor and care."
Joanne Secky
Thanks Dr. Ness
I have known Dr. David Ness for 5 years; I refer ALL of my athletes to him! His knowledge of the human body is excellent; combine that with an intuitive presence and his work is practically flawless. EVERY single athlete I've referred to him has become healthier, happier and active, once again.
Thanks, David!
Mark H. Wilson Professional Triathlon Coach Founder/President-Hudson Valley Triathlon Club


My IT Band pain is gone!
"I had been lucky during my running career not to have to deal with many serious injuries, but that made it only more frustrating when I started having IT band problems after running my marathon PR at Chicago in October 2006. Ice, anti-inflammatories, stretching, and using a foam roller didn't seem to help. I took three weeks completely off thinking that the rest would solve the problem, but the pain seemed even worse when I started running again. By this point I was getting nervous. I had read a lot of horror stories of people dealing with this injury for months, even years of chronic pain and inability to run. A friend recommended Dr. Ness. I was hopeful that he might be able to help me, but I was a little skeptical, as I had not had any experience with ART before. Not only that, I was wary of starting a treatment that might drag on for months at a time. My first few treatments were painful, but I could feel a difference almost immediately. Within a week I was riding a bike; within two weeks I could jog 15 minutes without pain; within three weeks I was running 30 minutes three or four times a week. It took no more than 10 treatments over the course of a month, maybe less, before I was getting back into my normal training routine, running pain-free. Five months later, I narrowly missed the course record at the Finger Lakes 50K. Now I'm looking forward to another marathon PR at Chicago 2007. Thanks to Dr. Ness, my injury did not become a chronic issue, and I'm running as well as ever."
Dr. Jay Friedman, ER Physician -Vassar Bro Hosp.
Finally, I'm better after my hip surgery
I came to Dr. Ness after a somewhat unusual stress fracture in my hip, given my age of 37, and a subsequent surgery to pin the fracture. Although after six months the fracture was pronounced healed, and numerous MRIs and even more physicians could find no apparent physical cause, I was still in pain. Beyond the pain, I was as equally bothered by the complete loss of my active lifestyle, which included running half marathons, rock climbing and snowboarding.
Since beginning ART treatments with Dr. Ness, the severity and frequency of my pain have certainly lessened. However, what I perhaps have found even more valuable is that I've been able to resume my athletic pursuits. In fact, I've even noticed that I now have a greater range of motion and flexibility that I never had, even prior to my injury. I'm happy to say that within just a few months of seeing Dr. Ness, I've been rock climbing some pretty tough grades and even slowly getting back to running. I've even felt strong enough to try ice climbing this winter.
Dr. Ness understands that for many of us, just walking or being pain-free isn't good enough. He understands the demands of sport-specific athletics and helps you reach those goals in particular.
Jill Macelhiney, Gardiner
My knee pain is gone after horrible fracture
Just wanted to express my appreciation for your ART treatment of my leg problems. As you know, I sustained a tibial plateau fracture (3 breaks) in a skiing accident 3 years ago. I also suffered knee damage warranting a bone graft.
Since rehabilitation from the injuries, I have been plagued with knee pain and constantly recurring hamstring strains and tears. After 3 months of treatment by you, my leg feels better than it has at any time since the accident. My hamstring is stronger than ever and gives me only occasional trouble. The knee pain is also reduced from what it was. My range of motion for flexing and extending with the leg has also increased since I started treatment with you. I continue to get stronger and expand the extent of my physical activity.
Skiing is on the horizon for next winter. 🙂
Michael Cox, Saugerties
Thanks Dr. Ness
At 42, I'd been suffering from lower back injuries that began at age 15, from chronic lower back pain for more than 10 years and had developed a twisted posture over the past four. Chiropractic treatments, exercise and yoga yielded measured results and the pain returned more and more often. It was difficult to get through a day at work, to play guitar for more than a few songs, or to lift either of my young sons, I discovered that 2 herniated discs were at the core of my problem when I relocated to New Paltz in January of 2007.
I was referred to Dr. Ness dozens of times. With hesitation and at the end of my rope, I sought help from Dr. Ness. By the end of the day of my first Active Release treatment, I stood in the mirror, straighter than I'd been for weeks. After a few treatments, as well as doing the stretches and exercises that Dr. Ness recommended, I was having pain-free days and feeling a strength and confidence I'd lost long ago.
I'm now on maintenance, exercising regularly and on the road to the best shape of my life. I'm learning to use my body in ways that are building strength and protecting my injury, as well as strengthening and healing my disks. I recommend Dr. Ness to anyone seeking compassionate, comprehensive and expert no-nonsense assistance in regaining your chiropractic health. He has changed the course of my life.
Seth Branitz, Karma Road Organic Café