80% of Americans suffer from back pain, but fewer than 5% require surgery to relieve their symptoms. Nonsurgical spinal decompression therapy could help you relieve severe acute or chronic pain in your neck, back, legs or arms due to:
herniated cervical and lumbar discs
slipped, ruptured or bulging discs
disc prolapses, tears or degeneration
neuropathy
spinal stenosis
osteoarthritis or facet joint syndrome
How does Spinal Decompression work?
Using a specialized decompression table, your spine is stretched and relaxed intermittently in a controlled manner. Separating the vertebra reduces the loading on your herniated or degenerated disc and allows the bulging area to retract back to its normal form. This allows space and relieves pressure on your spinal cord and nerves. The gentle distraction of your discs can expand the discs and allow vital nutrients and blood to flow back into your discs, and enable your disc to heal.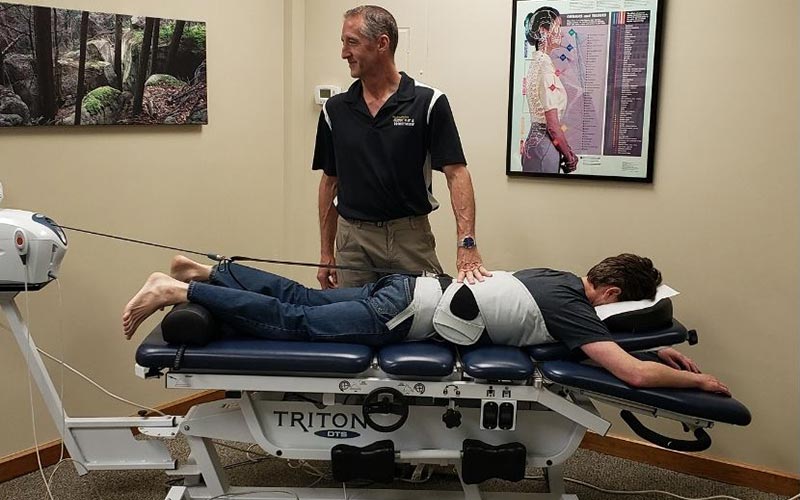 Learn more about back pain, its causes, and how Spinal Decompression Therapy works by viewing the above video.
Dr. Ness is a certified Kennedy Decompression specialist.  The Kennedy decompression technique, when paired with the Triton DTS decompression table, allows multiple positions for patient placement based on their symptoms. Other decompression tables only allow decompression when the patient lies on their back.
Spinal Decompression therapy can take 12-24 treatments over a 4-6 week period to relieve the pain associated with disc injuries, sciatica, spinal stenosis, and neuropathy. When spinal decompression therapy is paired with Active Release Technique and cold laser therapy, people who are suffering from disc injuries and neuropathy recover more quickly.
This combination of therapies will reduce pain and a patient's dependence on opioids for pain relief, naturally, without drugs.
To learn more, please use the request appointment tab on the right side of this page or call for an appointment: 845-255-1200.