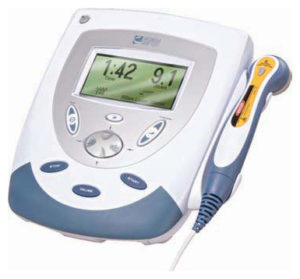 Cold Laser – Low-Level Laser therapy is for the treatment of tendonitis, tendinosis, ligament sprains and tears, muscle strains and tears, and pain from herniated discs in the neck or back. Using low-level light-emitting diodes or lasers, laser therapy uses light to stimulate healing and relieve pain in injured muscles, ligaments, discs, nerves, tendons, and joints.
Using a handheld wand like an Ultrasound wand, the laser is placed on the injured structure and held there for 30 seconds to a few minutes.  Light waves penetrate through the layers of the skin to the injured structure, where the light waves are absorbed.
This stimulates the cells to repair tissue damage which can reduce pain and decrease swelling.
Cold laser treatments are effective for the following conditions:
Neck Pain
Lower Back Pain
Shoulder Pain, rotator cuff strains
Elbow Pain, golfer's and tennis elbow
Wrist Pain, carpal tunnel syndrome
Hand Pain, DeQuervain's syndrome
Hip Pain, bursitis, hamstring strains, hip flexor strains
Knee Pain, runner's knee, jumper's knee, quad strains, ITB pain
Ankle Pain, achilles pain
Foot Pain, plantar fasciitis
Cold laser is a non–invasive therapy and has it has very few side effects.  Studies have shown laser has been effective in treating numerous conditions, including lower back pain. To view a study reviewing the latest research, click here.
To learn more, please use the request appointment tab on the right side of this page or call for an appointment: 845-255-1200.