The Golf Fitness Evaluation performed by Titleist Performance Institute certified Dr. David Ness, is a physical screening process that is used to identify a player's physical limitations in strength, flexibility, balance and endurance.
State of the art computer analysis of athletic movements.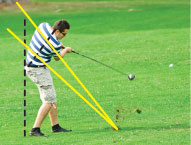 Bring in a video of you in action or we can videotape you swinging a golf club, tennis racqet, or running. Then we play it back at our office frame by frame to see if there is normal motion in the hips, spine, upper or lower body. We then use ART technique to treat any abnormalities found on videotape and examination to restore normal bio-mechanics to improve your performance.
Improve Strength! Relieve Pain! Swing Better!
With the information learned from the physical screening and the V1 Video Analysis Software, Dr. Ness will create a custom program using specialized exercises and stretches from the Titleist Performance Institute that will improve your ability to make a more consistent and powerful golf swing.
In addition, if pain or injuries are found, Dr. Ness can provide sports chiropractic care and ART Performance Care treatment. These are the same treatments that the PGA pros get on tour and they're designed to relieve pain and restore mobility to injured muscles, ligaments, tendons and nerves.
The Birdie Package — $125.00
Golf Fitness Evaluation
Video Swing Analysis
Custom 6 week exercise program
The Eagle Package — $325.00
Includes all the great features of The Birdie Package
(4)* Sessions of sports chiropractic care & ART Performance Care
*(Some insurance accepted. Please call for more information)